My classes recently finished reading I Will Always Write Back, a memoir about a girl growing up in the US and a boy growing up in Zimbabwe. They become pen pals in middle school, and change each other's lives. This is the second year I've taught this novel, and if you consider how many classes I teach, plus reading on my own, I've easily read it over a dozen times. I know this book freakishly well.
Martin, the boy from Zimbabwe, is a smart kid, a hard worker, and an incredible student. As he's finishing high school, he dreams of going to college in the United States, but has none of the money or resources to make that happen. His pen pal Caitlin's mom takes on the project of helping him reach his college goals. She makes phone calls, sends emails, and writes letters to everyone she can think of, trying to connect Martin to people that can help him access an education in the United States. It's a tougher project than she realizes she's taking on. There are so many hurdles to overcome, and so few people willing to help. She handles the heavy lifting of figuring out all the logistics, though, so Martin and Caitlin are free to focus on being students and teenagers. Although at times she isn't sure she'll be successful, eventually, of course, she manages to work the magic for Martin's college dreams to happen.
Reading the passages about Caitlin's mom, Martin's "American mom," always makes me think of my own mom. I was a hardworking student with good grades who planned to go away to college too. And I didn't have the slightest idea how any of it was going to work. My parents had provided my physical care all my life–everything from getting dressed and out of bed in the morning, to the cooking, laundry, and driving throughout the day. How would that work if I lived away from home? Who would help me? And how would I pay for that help? It would be hard enough to arrange all of that locally, but I had to complicate things by having my heart set on going to college out-of-state.
As a student with a disability, I had an annual IEP meeting, and the IEP team was supposed to help with my "transition plan," figuring out life after high school. I came to the meeting with an acceptance letter to BYU in Utah. I'd been awarded a couple scholarships. I'd made my deposit for on-campus housing. I had some credits already from AP tests. I was doing all the things that university-bound students do. My mom and I walked into the IEP meeting, asking for help navigating the bureaucracy of care services in another state. We were both overwhelmed, and these were the people tasked with helping us.
They did not help us. Uninterested in the college plans I was already making, they kept telling me to come to the career center and let them help me look at brochures for the local community colleges… I didn't want to go to community college. If I did, I would have just googled "Everett Community College," no assistance necessary. They kept pushing it, though, so I finally promised to make an appointment with the school's career counselor.
"I'm not really going back to look at community college brochures," I told my mom as we finally drove away from the school. "I just didn't think they'd let me leave until I agreed."
"I know," my mom said. We spent the rest of the drive home laughing about the one lady's spidery eyelashes. I don't know who she was, or why she was on my IEP team–I never saw her before or after that meeting–but her eyelashes were terrible. At least it was a distraction from the fears and uncertainty thick in the air. We didn't know how my college goals were going to work out, but we knew nobody was going to help us.
For months, I practiced spelling the word "bureaucracy" in my notes for AP Gov. But I learned what it meant from my mom's daily reports. Every day, while I was at school, she made a million phone calls. From one organization and government agency to another. Everybody she spoke to would redirect her to someone else who wouldn't return a voicemail… People in Washington wouldn't help, because we needed information about Utah. People in Utah wouldn't help, because I didn't live there yet. My mom filled notebooks with jotted names and numbers, but they all seemed to lead to dead ends.
I'll never forget the day I came home from school, and my mom was all upset about someone speaking cruelly to her on the phone. Useless Government Worker Number Eleventy Billion, unable to answer any of my mom's questions, had demanded to know, "Why are you even sending your daughter away? Why don't you let her stay with you?"
Gah!! I still see red when I think about all the layers of assumptions and insults this woman was making. Assuming that my mom was trying to get rid of me. Assuming that as a 17-year old high school senior, going to college out-of-state wasn't my own dream. She had no idea how much easier our lives would have been if I'd just chosen to stay at home. We could have continued with the same routines we'd been comfortable with my entire life. Neither my mom nor I are natural movers and shakers. We like routines. We like predictability. We like familiarity. When we decide that something is important enough to take the plunge outside our comfort zone, we'll move heaven and hell to make it happen, but the fear and anxiety eats us alive the entire time. How dare Useless Government Worker shame my mom for taking the scariest plunge up until that point in my life with me.
I didn't know what to do about any of this. So while my mom battled bureaucracy, I went to high school. I wrote papers and took tests. I sang in choir. I volunteered in the community. I went to movies with friends. I made bad makeup choices. I instant messaged. I did the things high school kids do. The ability to just do high school things, was such a gift.
Somehow, in the background, Mom successfully managed to put the pieces together that I'd need to start my new life in Utah.
Once I was dropped off in my dorm room that fall, I'd have to steer my own ship. And it was hard, so hard–that next year tested and stretched my limits more than I can express. But none of it would have happened without my mom getting me started, making sure the structures were in place that would allow me to build my own life away from my family.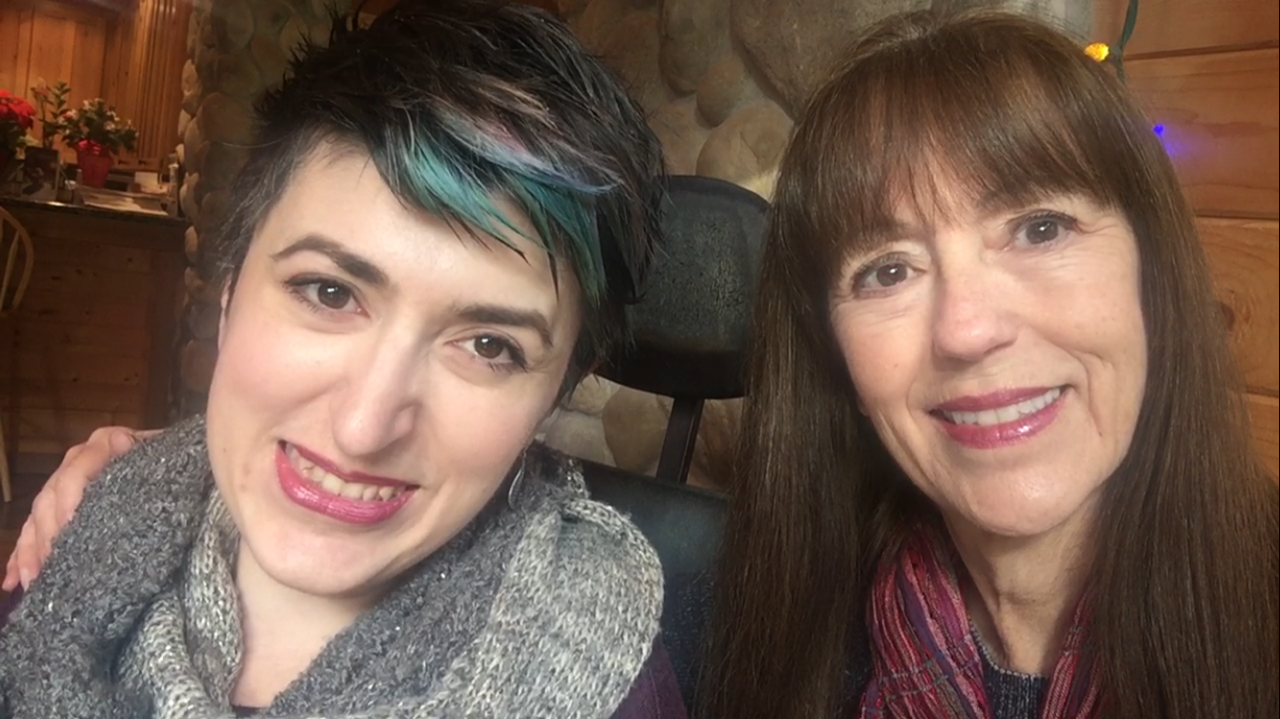 Moms give us so many gifts. They also make a lot of mistakes. But the best gift my mom gave me, no contest, was that she always supported me in being in charge of my own life.
She didn't sell me false ideas that "you can do anything you want to do." Some things just weren't feasible, so I always knew that disappointment and closed doors were part of life. But if I really wanted to do something, my mom would explore every possible avenue to try and make it work for me. And if I really didn't want to do something, within reason, she didn't force me.
Doctors would talk to her about medical decisions and treatment options, because parents get to make those choices when you're a child, but my mom would always redirect them to me. "It's her body, her life. She gets to decide," she would tell them.
I remember being so annoyed one year when I was complaining about having to go in for my annual flu shot. My mom just shrugged, "I'll cancel the appointment if you don't want it. You're old enough to decide." And she was right–I was old enough to know the flu shot was the responsible thing, and of course I was going to get one. But once it was my own choice, I couldn't complain about it anymore! Well played, Mom…
When we were little, my brothers and I loved playing in the sprinklers on hot summer days. As often as not, those days would end with one of our chairs breaking down. (Electronics aren't really meant to mix with water…) You'd think we'd have been forbidden from playing in sprinklers. But we weren't! Mom would just remind us, "If your chairs get wet, they can break." "We know," we'd say while running off to get drenched. I wasn't making smart choices, and of course my mom knew it. But she let me be a kid and do the things kids do.
It's only occurred to me recently how much my mom had to be making up as she went along. Sure, her friends, family, and community were full of moms, figuring things out together and learning from each other. But none of her mom-friends had to make decisions about rules for wheelchairs in sprinklers, or fight anything like the battle we had for me to go away to college. None of her friends had been the child in the wheelchair either. So on some things, my mom didn't have models to follow, or mentors to get advice from. She just had to go off her own intuition.
People like to tell me how great it is that I live independently and can be a participating member of society. But I wouldn't have any part of this life that I have today, if my mom hadn't set me up to be strong, bold, and determined. She didn't teach me to chase after pots of gold at the end of rainbows. Instead, she taught me, by example, to bend over backwards and work hard to find a way. She repeats all the time, "Once you've done all you can do, God will make up the rest." And she believes it fiercely. My mom taught me that miracles happen, but not if you sit down and wait for them. You have to take control and keep moving forward.
It's gotten me this far.
Happy Mother's Day, Mom!